Replace Missing Teeth with Modern Dentures or Partial Dentures
Missing teeth not only affect the appearance of your smile, they negatively impact the function of your entire mouth and, ultimately, your overall well-being. Natural-looking dentures and partials designed by Dr. Chi Fu Chester Hill Dentistry in Rye, NY, are excellent ways to restore your smile and improve your quality of life.
Rely on Modern Dentures from Chester Hill Dentistry
Today's dentures are not your grandparents' dentures. And there is no need to think of dentures as a last resort. Dentures are a viable solution to repair your smile. Innovations in dental technology have improved the reality of living with dentures or partials to replace missing teeth.
Durability, appearance, and functionality are the biggest worries patients have when it comes to dentures. Modern dentures – full or partial – are strong, look like natural teeth, and work properly so that you can feel confident about speaking, biting, chewing, and smiling.
Types of Dentures
Depending on your needs, there are different types of dentures that may be appropriate for your oral health:
Complete dentures, or full dentures, are the traditional denture restoration, replacing entire arches of top or bottom teeth or both. The prosthetic is attached to a gum-colored base, customized to fit to each patient's palette, and typically held in place with adhesive. This repair can feel odd at first. Over time, the soreness and increased saliva flow that are typical side effects of new dentures will subside and your jaw muscles and mouth tissues will adjust to the presence of the removable dentures.
Partial dentures are an option for people who are missing several teeth but have healthy remaining teeth to use as a support for a partial designed to fill the gaps. Attached with clasps, partial dentures are easily removed so they can be cleaned properly and daily. The point of partial dentures is not only to eliminate the hole in your smile, but to prevent your remaining natural teeth from shifting to fill the spaces in your mouth.
Permanent dentures can be held in place by either dental implants or anchored with dental crowns. Dental implants are placed directly in the gum and jaw bone and have a prosthetic tooth attached to the top of the implant, creating a natural-looking and very strong tooth replacement solution. Patients appreciate the reliability, permanence, and easy upkeep of permanent dentures.
Living with Dentures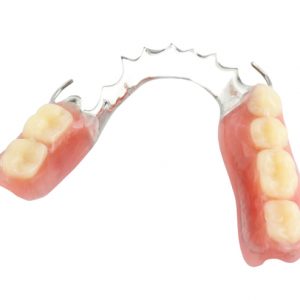 Regardless of the reasons for your missing teeth – gum disease, accident, age, decay, or otherwise – if you are missing several teeth or entire arches of teeth, you already know how problematic it is to live with this reality. It's difficult to eat, you can't speak clearly, and your confidence takes a hit.
Missing teeth make you constantly conscious of your appearance. You may only be able to focus on the fact that you're missing important teeth – and this fixation will project onto everyone with whom you interact. Whether another person is looking at your broken-down smile or not, you'll feel like they are.
Living with dentures is far easier than living with missing teeth. Cleaning removable dentures nightly may seem like a pain, but you would floss and brush your permanent teeth anyway, right? Denture upkeep is just a different step in your oral health care regimen, not an additional step.
Your Chester Hill dentist will provide detailed instructions for the at-home care of your dentures so that you feel confident about living with dentures. Taking care of this restoration is critical to maintaining the good condition of your dentures and, therefore, your oral health and appearance.
Visiting your Westchester area dentist regularly to ensure that your dentures are fit and working properly is also an important element in your dental care. Getting replacement teeth for missing teeth does not take the place of oral health care. Plus, it's essential for your dentist to keep an eye on your dentures – they are durable, strong, and will last for a long time, but dentures are not immortal. Over time, dentures will need to be refitted or replaced so that your teeth and smile remain completely functional and fabulous.
Don't allow an incomplete smile to jeopardize your oral health. Chester Hill Dentistry offers a variety of restorative dentistry solutions to replace missing teeth, from dentures and partials to dental implants to dental bridges. Consult with Dr. Fu to determine what customized procedure is best for restoring your smile to fine working order and appearance.  Contact our office to schedule an appointment. We serve the residents of Rye, Westchester, Rye Brook, Port Chester, and surrounding areas, including Greenwich, CT.