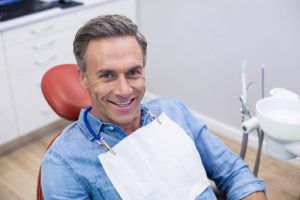 Feeling self-conscious about your teeth? Worried about your teeth falling apart when you bite or chew? Have noticeable holes in your smile? There is always a restorative dentistry solution that can fix what's wrong with your smile – and make it look amazing at the same time.
1. Fill the Space with a Dental Bridge
A missing tooth is a big problem, no matter where the space is in your mouth. Your bite can be altered when the teeth on either side of a missing tooth take advantage of the freedom to move around. A dental bridge fills the hole and secures your smile at the same time.
The most common dental bridge is a fixed bridge, which includes a false tooth and porcelain crowns to serve as anchors to hold the false tooth in place. This restoration is secure, long-lasting, and looks natural, so your smile looks complete.
2. Get Quick Repairs with Dental Bonding
Fast, non-invasive, and affordable, dental bonding – also known as cosmetic tooth bonding – is a quick but durable tooth restoration for minor repairs like chips, cracks, discoloration, fractures, and gaps. Bonding can also build up jagged or misshapen teeth, so they are robust, look natural, and blend in with the rest of your teeth. Tooth bonding can even counteract gum recession, extend tooth length, or serve as an alternative to amalgam fillings. Minimally invasive, dental bonding is especially appealing to anxious dental patients.
3. Replace Missing Teeth with Dental Implants
When you are missing a tooth or you are facing a tooth extraction, the goal should always be to figure out the best way to replace the missing tooth. Dental implants are permanent, secure, and customized in all ways to match the rest of your teeth and blend in with your smile. But more than appearance, a dental implant replaces the missing tooth root that is responsible for stimulating your jawbone and helping your face maintain its shape.
With dental implants taking the place of a missing tooth or teeth, your smile will be restored so you can chew, bite, speak, and smile with confidence.
4. Restore Damaged Teeth with Inlays and Onlays
Old fillings, chipped teeth, dull teeth, gapped teeth – deteriorating or destabilizing teeth need some serious support. Dental inlays and onlays can deliver while preventing further dental problems from developing.
Teeth with moderate tooth decay or damage need repairs, but they don't necessarily need a full dental crown (which typically requires the removal of more tooth enamel to make room for the restoration). An onlay is often referred to as a porcelain crown. Whether inlay or onlay, either solution mimics the color of your teeth and acts similarly to a filling.
Repair Problem Teeth with Restorative Dentistry
Teeth endure wear and tear – there is no way around it. However, with proper at-home and professional dental care, you can keep your teeth healthy and strong for a lifetime. Find out what dental restorations will return your smile to its full glory. Schedule a consultation with Dr. Chi Fu at Chester Hill Dentistry in Rye and find out what smile makeover solutions are right for you.