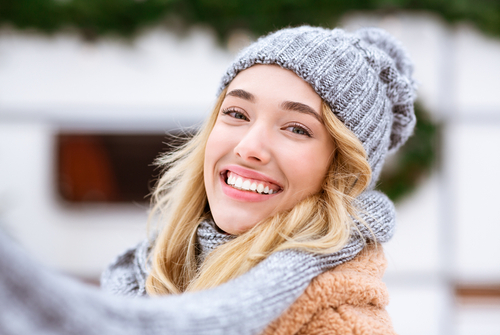 There are all sorts of ways to deck the halls at this time of year, no matter what kind of holidays you and your family celebrate. Your Chester Hill Dentistry office is prepared to help you get the smile makeover you want so that every party, get-together, or cozy evening at home is accompanied by a beautiful, natural-looking smile.
Whiten Up
The most logical, the easiest, and the fastest way to transform your smile in no time at all is through a professional teeth-whitening treatment. At our Rye, NY, dental office, we offer in-office whitening treatments and take-home whitening kits.
Both options are customized to your unique teeth and smile and designed to make your tooth enamel look multiple shades whiter. If you're no stranger to drugstore whitening products, you'll be pleased with the additional perks of professional whitening – no irritation, no mistakes, and long-lasting results.
Straighten Up
Have you been thinking about straightening your smile once and for all? So many adults feel the same way, and this is a great time of year to talk to your cosmetic dentist about whether you're a good candidate for Invisalign treatment.
Whether you're correcting a major misalignment or a relapse of crooked teeth after orthodontic treatment when you were younger, Invisalign can fix nearly everything that conventional metal braces can – and do it discreetly. Jump into this super-customized alignment method over the holidays while you're cozied up at home and have time off. It's a great opportunity to use your down time to get used to the aligners and wearing the trays. And even if you are going out for holiday celebrations, no one will notice your Invisalign anyway because it's nearly impossible to see on your teeth.
Fix It All
If you've reached the point where you are tired of your teeth in general, if they look old, dingy, worn out, and make you look the same, it's time to talk porcelain veneers. When your oral health is excellent but your teeth are less than flawless, you are a good candidate for this cosmetic dentistry treatment.
Porcelain veneers are carefully customized in color, shape, size, length, and width so they form a perfect new smile over your natural teeth. The veneers are carefully built to give you a smile that is symmetrical, complementary, and completely natural looking. The super-thin porcelain shields fit in place to conceal everything you dislike about your teeth for a stain-resistant, long-lasting smile makeover.
Get a Customized Smile Makeover
No matter what you dislike about your smile, there is always a way to fix it. Dr. Chi Fu at Chester Hill Dentistry in Rye, NY, is ready to talk to you about the options that will suit you best. There is always more than one thing that can improve your teeth, it's simply a matter of choosing what fits your comfort level, budget, and smile goals. Contact us today to schedule a consultation and get started planning your smile makeover.