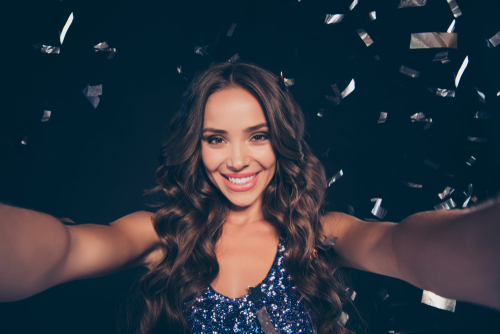 Everyone has personal reasons for pursuing a smile makeover. Whether you want your teeth to look perfect or you're self-conscious about an unsightly smile, it only matters that you're ready to make change happen. There is no better time than a new year to spur people into embracing change. If you're ready to alter your smile permanently and in a great way, it's time to talk cosmetic dentistry.
Change Your Smile in a Big Way
If you are all in on the New Year's resolution to get a bigger, better, more beautiful smile, then the route to take is porcelain veneers. This is the VIP of all cosmetic dentistry procedures, the treatment that makes people look younger, happier, healthier, smarter, and more affluent. You will look like a celebrity when you get veneers across eight to 10 of your most visible upper teeth. Veneers are customized in size, shape, color, and length so they flatter you and create a natural-looking new smile, covering up every imperfection you dislike about your teeth.
Make a Small Tweak with a Big Impact
Sometimes, all you need to do is make a few small changes to make a major impact and transform your smile and overall appearance. With a treatment like dental bonding, minor imperfections and damaged teeth simply disappear. This procedure is non-invasive and takes only about 30 minutes per tooth to complete in the dentist's office. A tooth-colored resin is painted on the offending tooth until it looks like the rest of your teeth, blends into your smile, and has its unsightliness just blotted away.
If your biggest complaints about your teeth are stains and discoloration, you could be a good candidate for professional teeth whitening, yet another cosmetic dentistry treatment that is done quickly (in just about an hour) and precisely to ensure the best results and the least amount of sensitivity. The outcome: a super-white, bright smile that looks like it's flawless, even though it might not be.
Cover Up Damage
Sometimes, people don't do anything about their damaged smile because they think there isn't anything that can be done for it. That one awfully discolored tooth, that one small tooth compared to all the others, that odd-shaped tooth that stands out so horribly – any problems like these can be completely concealed with a porcelain crown. A crown is customized in shape, size, and shading so it blends in with all the rest of your teeth while concealing what you most dislike about the appearance of your smile. Sometimes all it takes is a cap to make a cosmetic dentist issue disappear.
Make Cosmetic Dentistry Your New Year's Resolution
As long as your teeth and gums are healthy and free of decay or infection, you are probably a great candidate for cosmetic dentistry. Schedule a consultation with the dental team at Chester Hill Dentistry in Rye, NY, to discuss what you want to upgrade about your smile and find out what's possible based on your comfort level, budget, and oral health. Contact us today to make an appointment.