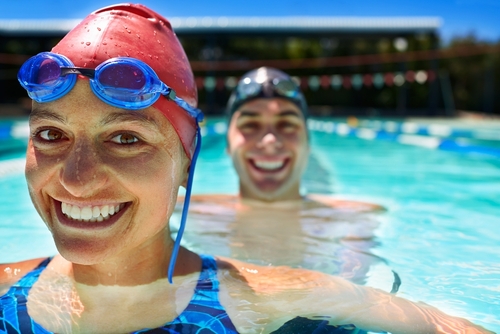 If you want a smile makeover but don't want to invest in multiple cosmetic dentistry treatments to make it happen, consider some of the best power duos for getting the job done. What many people crave is a white smile, but they also want teeth that are healthy and straight. Treatments like porcelain veneers absolutely deliver, but often patients want to go about this change with Invisalign and professional teeth whitening.
Power Duo Part 1: Invisalign
Invisalign treatment gets the work done of straightening your smile until it's completely in alignment. This is carried out over the course of about a year, but the timeline can vary depending on the patient, their unique oral health needs, and how well they comply with treatment. If Invisalign does work out, here's what you can expect:
Wear the customized trays 20 to 22 hours a day.
Movement of a few teeth at a time per every set of new Invisalign trays.
Virtually invisible aligners.
Treatment that takes about half the time of conventional orthodontics.
Opportunities to correct small imperfections, gaps, or relapsed teeth.
Retainer wear after Invisalign treatment is complete.

Invisalign delivers a stunning transformation to the wearer and easily fits into a person's lifestyle without interrupting their obligations and appearance. You can go about your professional and personal life and allow Invisalign to seamlessly blend in while you laugh, speak, smile, and eat just as you always have.
Power Duo Part 2: Teeth Whitening
The best cosmetic dentistry treatment to top off a newly straightened smile is professional teeth whitening. Chances are, if you want whiter teeth you've already invested in over-the-counter quick fixes that promise miracles. And chances are, they may not have delivered all that well. Storebought whitening products can't see your teeth, evaluate them, or identify which ones will whiten and which will not. Your dentist can tell you whether professional bleaching will deliver the bright white smile you've always wanted.
Tweaking the Power Duo
If your teeth cannot be whitened, don't despair. Teeth whitening might not be the best cosmetic dentistry choice for all your teeth, but there are other options for making a change to just one or two teeth that don't blend in as nicely as they could.
If you have a tooth that's discolored for reasons other than typical stains, a porcelain veneer, dental crown, or even dental bonding is customized to your tooth in size, shape, and color and tinted to match your newly whitened smile. It's a smile makeover of many hats, but it gets the job done affordably, beautifully, and permanently.
Get the Powerful Smile Makeover You Want
Find out if the Invisalign and teeth whitening combo is right for you and your smile, or if there is another cosmetic dentistry pair, trio, or quad that might be better suited. There are so many ways to achieve a gorgeous, flawless, natural-looking smile and Dr. Chi Fu and his dental team at Chester Hill Dentistry are ready to help you reach this goal. Contact us today to make an appointment.