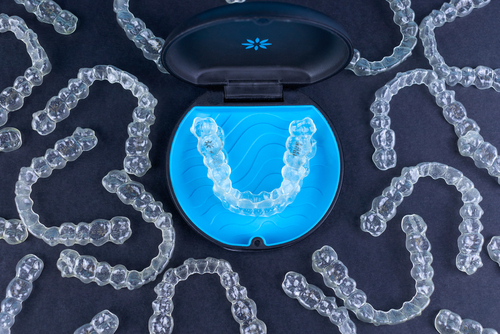 If you're thinking about getting Invisalign, you've probably read plenty of articles, researched dentists, and looked through dozens of before-and-after photos. You've done your due diligence and concluded that this is the right treatment for you and your misaligned teeth. If your Rye dentist confirms that you are a good candidate, things will get underway faster than you can imagine – and then you'll be living the Invisalign life. Here are some Invisalign hacks to help you manage it.
1. Change Your Trays at Night
Most sets of Invisalign trays are worn for two weeks at a time before changing to the next set. When those two weeks are up, schedule your switch for bedtime, popping in the new aligners after you've eaten and brushed your teeth and just before you get into bed.
Every new set of trays will be snug and deliver some discomfort, but if you can sleep through that initial impact, the pressure will be a lot less unpleasant. Plus, sleeping for seven or eight hours without removing the trays lets your teeth adjust to their new positions uninterrupted.
2. Make Good Use of Your Phone Timer
If you're like most modern adults, you have your phone with you at nearly all times. Well, Invisalign will be with you constantly too. Have the two work together. Since Invisalign needs to be worn for 20 to 22 hours a day, that leaves you with about four hours for all three meals, plus snacks, plus cleaning time. How to keep track? Use your phone timer.
You might think you can monitor your Invisalign wear time without tracking the minutes, but it's easy to go over that allotted time and leave your aligners out too long, especially when you're eating with friends and easily distracted. Setting a timer keeps you on track at every meal and break, notifying you when it's time to clean your teeth and put your trays back in.
3. Always Carry Your Case
Your Invisalign case is an essential part of your treatment. You'll be carrying toothbrush, toothpaste, and dental floss every day now to clean your teeth in between removing and replacing the trays in your mouth – it's not much more effort to ensure that your case is at the ready too.
Invisalign cases are slim and discreet, so they can fit into pocket or bag easily. It's essential to have a safe place to stash your aligners when they're not in your mouth – your pocket full of lint or napkin are not good locations for Invisalign trays. You risk damaging them or throwing them away. If you rely on your case, your trays will always be safe and you won't have to worry about having to call your Rye Invisalign provider to discuss replacements.
Invisalign Provider Near Me in Rye, NY
Imagining yourself with Invisalign and wearing the trays are two different things. It helps to know some tips and tricks to help you get through the difficult parts of adjusting to this new element of your lifestyle. Don't hesitate to ask your Rye, NY, Invisalign provider at Chester Hill Dentistry for more help and suggestions for making it easier to live with Invisalign. Contact us to schedule an appointment.